Pomegranates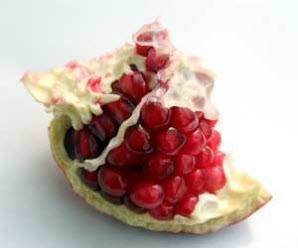 are known for their healthy qualities. If you've ever tried to open one, you know that it takes skill to remove the healthy seeds without squirting the juice. The key to removing these stains is prompt removal. The longer the juice is allowed to sit on fabric, the more difficult, or impossible, it will be to remove.
Removing Pomegranate Stains from Fabric
You Will Need:
Cold water
Liquid dish soap or laundry detergent
Small bowl or dish (large enough to hold the stained portion of the fabric)
Hydrogen peroxide
Steps to Remove the Stain:
Begin by running cold water through the fabric to remove as much of the juice stain as possible.
Apply liquid laundry detergent or dish soap to the stained area. Work it in gently with your fingers.
Place the detergent covered stain in a dish filled with cold water.
Allow it to soak for 30 minutes.
Rinse thoroughly under cold water.
If the stain is gone, launder the piece as usual. If the stain remains, test a small area with the hydrogen peroxide. This can bleach some fabrics, so ensure it is safe for your particular fabric before applying it to the stained area.
If safe, blot the area with the peroxide. Allow it to set for 3 minutes.
Rinse thoroughly under cold water.
Launder as usual.
Removing Pomegranate Stains from Carpet and Upholstery
You Will Need:
Cold water
Liquid dish soap
Bowl
Soft white cloths
White vinegar
Steps to Remove the Stain:
Start by scraping away as much of the pomegranate as possible from the surface.
Mix one cup of cold water with 1 teaspoon of liquid dish soap in a small bowl or bucket.
Moisten a sponge or soft cloth with the mixture and dab it onto the surface of the stain.
Blot it gently to work the soapy water into the stain.
Use a clean cloth moistened with white vinegar to blot and "rinse" the area.
Continue blotting with the soapy water and vinegar, alternating, until the stain is removed.
Once clean, blot the area with a clean cloth and clean water to remove any remaining residue from the soap and/or vinegar.
Additional Tips and Advice
Additional products that have been helpful in removing pomegranate stains include lemon juice, stain removers, and baking soda with club soda. Ensure the product is safe for the fabric type before moving forward with any cleaning product.
Pomegranate stains become increasingly difficult to remove after they are allowed to set. Treat the stains promptly for the best chance at successful removal.
OxiClean has the same cleaning effect as hydrogen peroxide and can be used in its place to remove the stains as well.